First off, I love the Flare+ – it's really a great value for the money.
I thought I'd add this to help Mac users connect to this device as the instructions are devoid of direction.
My undocumented fix:
When you first attempt to connect via Mac, bluetooth will report a connection failure. Open the options menu and erase the bluetooth code and replace with a single zero '0' and click "Connect"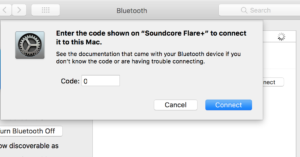 This worked for me. Hope it works for you too.