Do you ever hear business owners complain about "Government Red Tape" and think to yourself "What is this guy complaining about?" Here's a perfect example.
I hire Intuit Quickbooks Online Payroll service to handle my business's payroll. This means they take money out of my business checking account and pay my employees. As part of this service they file and pay all my required taxes with regard to payroll. This is the service I pay for them to perform.
Then I get this email:
So I follow the link (because I knew this would be there) and find this: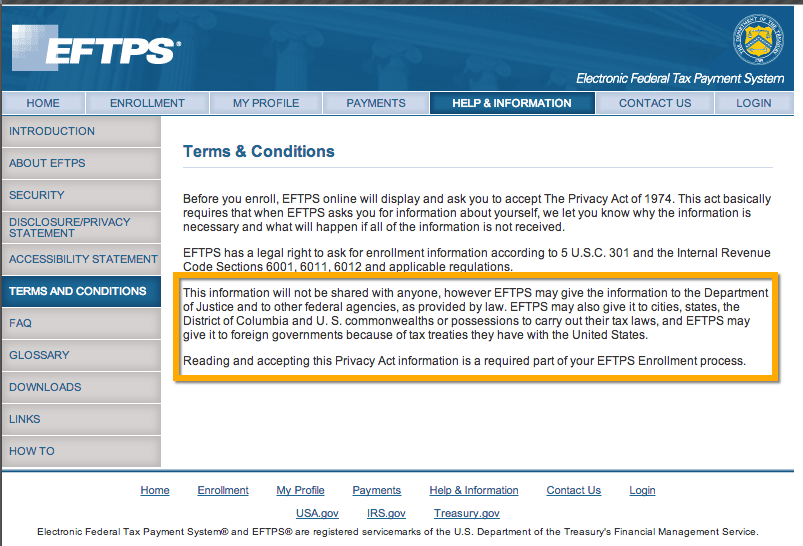 "This information will not be shared with anyone, however EFTPS may give the information to the Department of Justice and to other federal agencies, as provided by law. EFTPS may also give it to cities, states, the District of Columbia and U. S. commonwealths or possessions to carry out their tax laws, and EFTPS may give it to foreign governments because of tax treaties they have with the United States."
…so basically, anyone. The government is covering it's own ass to share my payroll and bank account information with anyone. Why would they need a disclaimer here? Use your imagination.
This is why business owners complain about "government red tape." Day after day, in order to sell or do something in exchange for money, we're required to sign a new document or sacrifice some level of privacy. It's endless and pointless.
I'm pretty sure Intuit's automated service won't miss a payment, so I'll pass for now. Thanks for the invite though!